Performance and accompanying workshop available onsite, on demand. Premiered at SummerWorks August 6-15, 2010; Programmed in FemFest, Winnipeg's annual theatre festival celebrating women artists from across Canada, September 25 to October 2, 2010.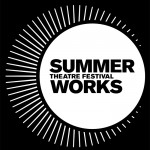 All of Him – An interactive biography of a jovial father with a dark past…a live, local talk show! This socially engaged, interactive story provides an opportunity for audience members to consider and discuss topics often considered taboo in a supportive environment. Written and performed by Tanya Pillay; directed by Jajube Mandiela. (thanks to JennyLuong.com for the graphic design!)
Also open to your suggestion of suitable venues / community groups / organizations that would like to bring this interactive story to their audience. More…
___________________________________
I am a Toronto-based actor and hypnotist who sings, dances, hosts, facilitates arts education and personal development workshops, and writes for motivational and performance purposes.
Born in South Africa to Tamil parents, I grew up in Simcoe, Ontario and studied Rhetoric and Professional Writing at the University of Waterloo with concentration in Psychology.
After several years as a full-time writer/editor and usability specialist, I decided to pursue my life-long attraction to performing arts and have since been a part of Dora Mavor Moore Award-nominated productions Beneath the Banyan Tree (Theatre Direct) and Diplomatic Immunities (Mammalian Diving Reflex). During this time I discovered an affinity for the art of motivational hypnotism, which I currently practice alongside my dramatic pursuits.
I am a graduating member of b current perfoming arts corps' rAiz'n the sun training/creation/performance ensemble. I seek opportunities to deepen my experience with writing, dramaturgy, and directing as well as do more screen acting (especially film), modelling (especially print), comedy, improvisation, singing (especially in harmony!), and eclectic dance/movement.
Please contact my agent if you would like to hire me as a screen actor or model, or contact me directly regarding live theatre/facilitation opportunities.
___________________________________
Tanya Pillay is an actor and hypnotist based in Toronto, Canada.