All of Him is easy to tour and suitable for audiences of any kind.
You can participate by bringing the show and followup workshop to any audience at a price they can afford. If you have a bit of time and community contacts and would like to join the team – just read on and contact me if interested.
Although a creative vision for production exists, I'm open to new ideas and eager to get this out to audiences teenaged and older of any and all backgrounds as a live performance or using screen-based media such as digital photo + audio story or studio audience…I'm open to any avenue. At 60-90 minutes (final Q&A can be any length of time), it's easily presented in a double bill or festival program as is or extended to 2 hours plus an hour-long followup workshop.
This genre-bender is much more simply experienced than explained. The piece demonstrates to any audience a cathartic manner of open sharing that brings to light otherwise private indiscretions within the extended family. By disposing of secrecy, the audience is free to consider whether their own privacy truly serves individual, family, and community well-being and perhaps even consider addressing situations they had previously thought to be beyond resolution. As a performer, I leverage my relative neutrality as the daughter of a pedophile and cousin to his victims so the audience can cross examine a primary source without fear of provocation or injury.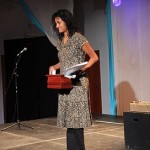 So far, the lifecycle of the piece has included
a.. two invited workshop readings with feedback from theatre industry peers and mentors
b.. one public presentation (bcurrent's rock.paper.sistahz festival of new works, May 2009)
c.. one reading I adapted for Meri Kahani (Mehreen Poonja and Umbereen Inayet) comedy fundraiser for Justice in Bhopal
d.. two rounds of dramaturgy with Jajube Mandiela mentored by ahdri zhina mandiela.
e.. Summerworks 2010
f.. FemFest 2010
g.. Staged reading for helping professionals working in family services in Bermuda
My goal is to bring this blend of socially-engaged, relational storytelling to as many audiences as possible. I'd be happy to answer any questions you many have about the piece,  send the 20-page script,  or simply followup with any contacts, community groups, organizations, or other ideas you can suggest to get more people thinking and talking about love, trust, judgement, family politics, sexual boundaries, sexual abuse, confrontation, authority, speaking out, communication, legacy, and death in an open and personal way. Please contact me for more information.